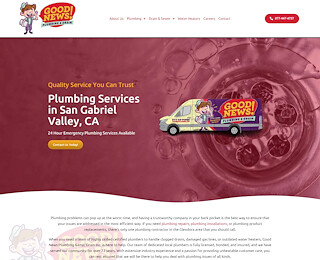 Plumbing issues can arise unexpectedly, causing discomfort and inconvenience in our daily lives. For homeowners and businesses in San Dimas, the importance of having reliable plumbing services cannot be overstated. Fortunately, Good News Plumbing & Drain offers professional plumbing services in San Dimas, ensuring that residents have access to the expertise they need to keep their plumbing systems functioning smoothly.
Common Plumbing Issues in San Dimas
San Dimas residents face a variety of plumbing issues that can affect their daily lives. Clogged drains can cause water to back up in sinks, showers, and toilets, while leaky pipes can lead to water damage and mold growth.
Malfunctioning water heaters can result in cold showers and decreased energy efficiency, while damaged pipes can cause low water pressure and sewage backups. Addressing these issues promptly and effectively is crucial to prevent further damage and expensive repairs.
Good News Plumbing & Drain's Professional Plumbing Services in San Dimas
Good News Plumbing & Drain is dedicated to providing reliable and efficient plumbing services in San Dimas. Our team of skilled and experienced technicians is equipped with modern equipment and techniques to diagnose and repair plumbing issues quickly and effectively. We understand the importance of minimizing disruption to our customers' daily lives and strive to complete repairs with minimal inconvenience.
Comprehensive Plumbing Services Offered in San Dimas
We offer a wide range of plumbing services in San Dimas to meet the diverse needs of our customers. Our drain cleaning and repair services use high-pressure water jetting and camera inspection to clear blockages and identify underlying issues. We offer leak detection and repair services to identify and fix leaks before they cause water damage and increase water bills.
Our water heater repair and installation services ensure that our customers have access to reliable hot water when they need it. We also provide pipe repair and replacement services to address damaged or corroded pipes, ensuring proper water flow and preventing sewage backups.
Emergency Plumbing Services in San Dimas
Plumbing emergencies can occur at any time, often causing significant damage and inconvenience. At Good News Plumbing & Drain, we offer 24/7 emergency plumbing services in San Dimas to address unexpected plumbing issues. Our team responds quickly to emergencies such as burst pipes, overflowing toilets, and gas leaks, minimizing damage and restoring plumbing systems to working order as soon as possible.
Customer Service and Satisfaction
At Good News Plumbing & Drain, we understand the importance of excellent customer service in professional plumbing services. Our team is committed to providing exceptional customer service and satisfaction to our San Dimas customers.
We take the time to understand our customers' needs and concerns and work to develop personalized solutions that meet their specific requirements. Our positive customer reviews and testimonials attest to our dedication to providing top-quality plumbing services.
Make Good News Plumbing & Drain for Your Plumber San Dimas
In conclusion, reliable plumbing services are crucial for the proper functioning of homes and businesses in San Dimas. Good News Plumbing & Drain offers a comprehensive range of professional plumbing services, including emergency plumbing services, to meet the needs of San Dimas residents.
We are committed to providing reliable, efficient, and personalized plumbing solutions to keep our customers' plumbing systems functioning smoothly. Contact us today to experience our exceptional plumbing services and customer satisfaction.
Good News Plumbing & Drain
(877) 447-4737
310 W Mountain View Ave Ste 4
Glendora CA 91741 US